Every Witch Way 2013 at widest 120cm x 100cm Gloss paint on plywood

This painting was created by dropping coloured sticks onto a grid. these maps were then alligned along an X, Y and Z axis to form 3D shapes, which were then used to create paintings. The title acknowledges the role of chance in the work as well as the role of the artist in filtering out other possibilities and presenting it. There is also a reference to pseudosciences, folk sciences and witchcraft, which acknowledges a thematic undercurrant within many of my works.

Powered by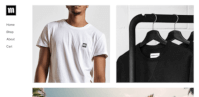 Create your own unique website with customizable templates.